Reviews of "Pretty Pretty"
A huge THANK YOU to everyone on this page for their wonderful reviews of my book.

5 Stars!

Reads like a great horror movie!
reviewed by Alyssa Feller of Young Adult (& Kids) Book Central
~~~~~~~~~~~~
5 Stars!

"This is an amazingly written book that will send shivers running up the back of your neck. K.C. Oliver is a wonderful, descriptive writer who knows how to get you hooked. This is really the book for you if you love to read thrillers and haunting stories that will keep you excited the whole way through."

reviewed by Holly of teensreadtoo.com
~~~~~~~~~~~~
#1 Bestseller during the month of February 2006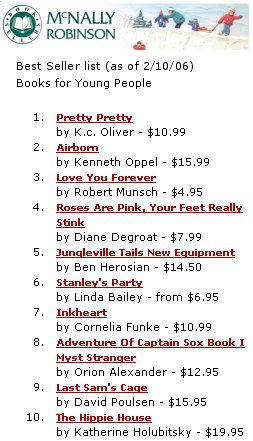 ~~~~~~~~~~~~

PRETTY PRETTY was voted one of 2005 top 10 reads by reviewer Janie Franz at myshelf.com!

"Books that entertained and/or impressed us most in 2005"

Janie Franz (Reviewer)

1. The Program - Gregg Hurwitz

2. Murder Under a Mystic Moon - Yasmine Galenorn

3. Grandfathers Song - Jake George

4. Firecracker Jones Is on the Case - Christopher Klim (Children)

5. Pretty, Pretty - K. C. Oliver (Children)

6. Shelby and the Shifting Rings - A. M. Veillon (Children)

7. Carnosaur Crimes - Christine Gentry

8. Moon Child - Simone Maroney

9. Twas the Bite Before Christmas - Lee Charles Kelley

10. Party Princess - Vanita Braver, MD

11. Nightly Specials - Michael Lomonaco

12. A Day in the Life of An American Woman - Sharon J. Wohlmuth, Carol Saline, Dawn Sheggeby

Check out their website for more great books that made their list. Thank you so much Janie!

A tale to shiver by.
/5
"A marvelous read, this book combines the pacing and thrills of the best Goosebumps novels with the language and humanity of Harry Potter. A young adult novel that an adult can enjoy."
Marc Vun Kannon, Author of Unbinding the Stone
Visit Marc Vun Kannon's Website!
~~~~~~~~~~~~
"A good piece of recreational reading." ***/4
Dr. David Jenkinson, CM: Canadian Review of Materials
"PRETTY PRETTY is a terrific young adult paranormal mystery starring three likable teenagers struggling to solve the haunting while just trying to stay alive. The key to K.C. Oliver's fabulous story line is that the audience is never sure until the end as to whether the Barrington siblings, some other mortal, or a ghost is behind the danger. Readers will treasure this fine thriller and look forward to more investigations into the unexplained by the likable protagonists."
Harriet Klausner, The Best Reviews,
ParaNormal Romance Reviews &
Midwest Book Review
"Pretty, Pretty is a great, fast read."
"All I can say is: More, More, More..."
Janie Franz, MyShelf.com
~~~~~~~~~~~~
"The timing of the September release of K.C. Oliver's "Pretty, Pretty" couldn't be better. It guarantees chills well into the spooky season and beyond."
"Buy this book for your young readers, but treat yourself to a read first!"
Julie

Obermiller, Mysterical-E
(Scroll down until you find Pretty Pretty)
"If you like to read a splendid ghost story, I recommend, without any doubt, K.C. Oliver's Pretty Pretty to you!" *****/5
Annick, Euro-Reviews